Application
The Key Features of roamnest
RoamNest is tool to help with network testing to the roaming testers. You can perform basic data, SMS and Call tests. From log analyses you can proof CSFB and switch of the RAT from LTE to 3g or 2g during data transfer. For more analyzes you can send your log via e-mail and analyze it on your computer.


There are following informations displayed:
IMSI
IMEI
ICCID (SIM card serial number)
Network name and network PLMN code (MCC+MNC)
Signal strength ASU and Dbm
Cell ID parameters (LAC, CID, RNC, PSC, TAC, PCI, eNodeB, CI)
Network RAT (GSM, EDGE, UMTS, HSPA, HSDPA, LTE and more)
Call state
Data state
Received and Transmitted amount of data in kb

Testing actions:

Ping IPv4
Ping IPv6
Download
Upload
Call
SMS
Guided LTE roaming test IR.38

Features:

Speed test
Link to network selection
Link to APN settings
Radio type selection (not on all terminals)
Send log via e-mail
Get device IP address
Get Gi or SGi IP address
Get DNS servers used by the device
Send SMS via userd defined SMSC
Call, USSD and CSFB
RoamNest log will tell you when is radio access changed form LTE, 3g or 2g. It is important to see how fast is return to the LTE for example during CSFB testing. Other option how to invoke CSFB is to use USSD code you will just simply type it instead of callied number.
Speed test
Download and upload speed is tested towards server in the internet. For speed testing purpose it is possible to create your own test site. For detail, please check server section.
ping
Ping shows you if certain host is reachable. You can use IP address or DNS name of the host. There are both IPv4 as well as IPv6.
SMS test
SMS test alows you to send SMS using default or user defined SMSC. Log contains information regarding MO (Mobile originated) MT (Mobile terminated) phase. In MT phase you can see SMSC address of the SMS centre used for the delivery of the message.
Download server
In case you would like to create your own server side for speed test purposes there is the RoamNest-server.tar archive.
Terminals
Roamnest has been tested on various phone types and on all models basic functionalities are working. There is subset of phones where you can use terminalinfo and set Radio Access Type. Below you can see some devices where test for phone info has been performed. Regarding requirements there are not any special ones. You can use phone with stock firmware. RoamNest runs on the devices with Google Android 4.3 and higher including Android 7.0.
:-)
Terminal
Radio settings
Google Nexus 5 (LG nexus d821)
Working
Sony Z1 Compact
Working
Sony Z1
Working
Sony M2
Working
Sony Z3 Compact
Working
Sony M4 Aqua
Working
Sony Xperia X
Working
Sony Xperia XZ2 Compact
Working
Samsung S4 mini
Not Working
Samsung S5
Not Working
Phone Info

Part of the phone diagnostic software. Availability of phone info depends on phone implementaion.

RAT Selection

On the phone where is phone info available you can select RAT.

Settings

Setup of the testing enviroment. Set your test server, SMSC when you use other then default one and more.

Call

This selection allows you to invoke call or USSD request.

Network selection

Link to network selection and APN settings for easy settings changes.

SMS

For each test SMS you can change default SMSC to custom one.
Server setup
There is option to create your own test server. Just download tar file below and upload extracted files to your own test server. In the RoamNest application replace in settings option test server address to the yours server. Reason to create your server is to be sure, that for speed testing you are using server with proper location, server load and connectivity. It will helps you to reach more accurate measurements from yours PGW or GGSN.
Server files download: RoamNest-server.tar

There is list of the files used for the download test. You can replace them by your files at your own server.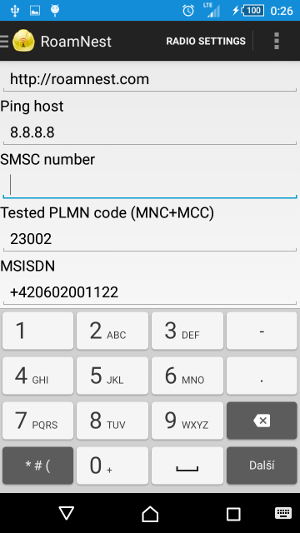 | | |
| --- | --- |
| File name | Size |
| EDGE.jpg | 313K |
| EHRPD.jpg | 3,1M |
| EVDOA.jpg | 848K |
| EVDOB.jpg | 1,5M |
| EVDO.jpg | 848K |
| EVDO0.jpg | 848K |
| GPRS.jpg | 103K |
| HSDPA.jpg | 2,6M |
| HSPA.jpg | 2,8M |
| HSPAP.jpg | 2,8M |
| HSUPA.jpg | 2,5M |
| IDEN.jpg | 313K |
| LTE.jpg | 3,6M |
| UMTS.jpg | 1,5M |
| UNK.jpg | 313K |
| 1xRTT.jpg | 313K |